Beef Suet – How to Use it Without Making Tallow
Beef suet is the raw fat found around kindney area in a cattle. It is does not have much taste on its own and has much less taste compared to some of the muscle fat. That makes it a good choice for cooking.
For people on the Paleo diet it is a good source for saturated fat. It is a good alternative to coconut fat or butter.
It is also very cheap to get, as currently the mainstream meat production does not use it. The mainstream production focuses on minimizing fat and usually not add animal fat intentionally.
Suet is traditionally used to make tallow. Tallow is heated suet until it becomes liquid and then the hard parts are filtered out. Tallow is storable without cooling, which made it the default way to process suet in the past.
Since I have a freezer I do not have to make tallow. Is simply cut the raw fat into pieces and freeze it.
When needed, I then simply add some pieces to my cooking or pan frying food.
The picutre above is 4Kg suet. A local butcher sells it to me on request.
And below is close up picture.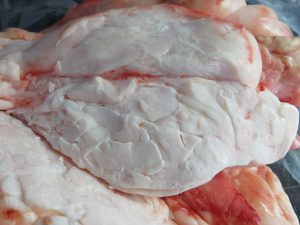 And this is what it looks like when cut into pieces.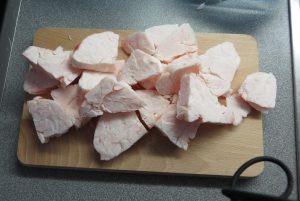 And the final bags ready to be frozen.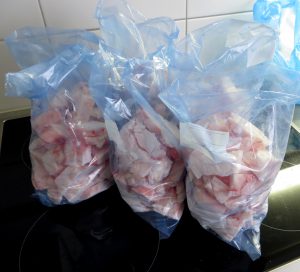 Posted on
Last updated on
---