When You Absolutely Can't Sweat Stink – Try This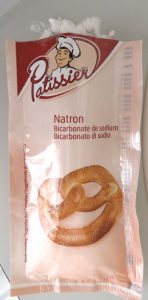 There were situations in the past when I knew I would stink. Situations that made me anxious were on top of this list.
And these were exactly the events I did not want to be stinking at.
Deodorants and antitranspirants did not work for me. If I was fearful for whatever reason, I would still start to stink after a while.
Other factors that can contribute to unpleasant body odor are: physical activity, hot weather, and being overweight.
By luck I stumbled upon the tip of using regular backing soda.
I tried it and hey – I did not smell anything under my armpits even 36 hours later. I was really amazed, I never expected that. It really stopped the stinking.
Since then I always use baking soda power under my armpits for events, where I absolutely do not wanna be stinking at.
Baking soda is available at larger supermarkets for baking purposes. It is mostly sold as powder. It is also known under the name of Sodium bicarbonate or sodium hydrogen carbonate.
Real natron or sodium carbonate decahydrate is something else. Do not confuse it with it. Fortunately, real natron is usually not sold in supermarkets.
Let's repeat: What you want is baking soda, also known as sodium bicarbonate or sodium hydrogen carbonate.
To use it, make your armpits a little wet. Then make a finger wet and stick it into the power. Now rub that powder gently under your armpit. That is already it.
I only use baking soda for the special events. It can irritate the skin and some people get reactions, like red skin. It is basic with a high pH value and interferes with the skin's natural protection layers against bacteria.
I can use it without any problems multiple times in a row. But I usually use normal deodorant, as it sufficient for regular situations for me.
Baking soda does not stop you from sweating like antitranspirants. It works like a deodorant, you still sweat, but the sweat will not stink.
If baking soda does not work for you, then you might want to look at prescription strength deodorants and antitranspirants. They might solve your problem.
Posted on
Last updated on
---