Improve Your Marketing, Selling, and Advertising Skills
If you want to succeed in any of the three, enjoy the interactions with the customers, and have a certain degree of control of your lead acquisition and conversion, then it is very helpful to be good at all of them.
Marketing is the broadest skill and includes all of selling. And selling includes all of advertising.
Advertising can be looked at as a special kind of selling: salesmanship in print (and other formats like video).
Selling includes all the way from finding the potential customers for your product and getting them to buy your product at the end of the process. And a part of that is advertising.
And marketing includes selling and advertising, but also much more. It also includes what product you offer and how exactly that product is designed to sell well, and what points are stressed in the presentation to the public (so it sells well). Marketing also includes all the adjustments you have to make based on your competitors and their products.
Your product can be very good and very beneficial to potential buyers. However, if you cannot sell it, it will never get to play that role. It is important to know how to get the points across to your potential buyers once you have a conversation with them. But first they must get a chance to get in touch with your product – if they never get a glimpse of your product in any of your advertisements or in whatever you use, then of course, they will never buy.
The whole selling process must be efficient else one of the following happens: you don't sell enough of your product or if you simply increase your selling expenditures to acquire customers with inefficient sales and marketing tools, you will have too high costs to be sustainable.
Fortunately, there have been people who spent all their life figuring out each step and found the time to write it down. Below you will find a list of books I read and highly recommend for these 3 topics.

Marketing
Abraham, Jay. (2000). Getting Everything You Can Out Of All You've Got.
Jay talks about how to go about marketing and business in a fundamental way. He also shows what putting clients first means and how important it is. It is a very good book.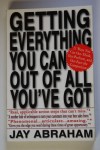 Ries, Al & Trout, Jack. (1981). Positioning – The Battle For Your Mind.
The book describes how to tweak your product and selling message such that it gets heard. It is not enough to have a good product and telling the prospective customers about it. Others want to sell similar products and the prospects are anyway flooded with advertising and ignore most of it. This books shows ways to position your product in the marketplace that the prospective customer chooses you instead of the competition.
Selling
Rackham, Neil. (1987). SPIN-Selling.
Based on research, statistics and smart interpretations, Neil describes the different steps in a successful sales process. If you are doing one on one selling with clients, this is the book for you.
Beckwith, Harry. (1997). Selling the Invisible – A Field Guide to Modern Marketing.
Harry talks about selling services and ways to deal with the difficulty that they are not tangible. This means, you cannot simply state I give you 2 hours of my service for the price my competitor charges for 1 hour. The client does not know whether 2 hours of your service is worth more than 1 hours of a competitor's service. Maybe your service is not as good as the other. Selling services has much to do with trust . And what are the concrete benefits of your service anyway? What specifically do I get out of it and why do I want that? It is not as easy to describe as, for example, the air conditioning benefits of a car.
Advertising
Hopkins, Claude C. (1927). My Life in Advertising.
This is the classic book on advertising. Claude talks about his experiences with selling and advertising. He stresses the importance of the so called direct response approach, where the response rate of the advertising gets measured. And then one adjusts his efforts accordingly to what works. This is in sharp contrast to advertising that show for example, a good picture of a car without any number to call for the potential customer or any other action to take that can be tracked by the advertising company. The book was fun to read.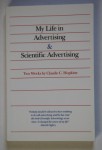 Ogilvy, David. (1983). Ogilvy On Advertising.
David Ogilvy was a well known advertising professional working at Ogilvy & Mather. He stresses to advertise in a way that generates results. And the way to know what work: measure the results. His book includes specific tips on advertising layout and text.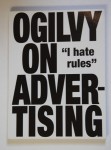 Caples, John. (1997). Tested Advertising Methods, 5th Edition.
A compendium of measured results of different wordings for advertising. When faced with multiple ways to express one thing, the book guides you which words to choose based on proven results. If you are authoring sales texts, then it is a good read.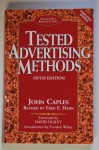 Posted on
Last updated on
---